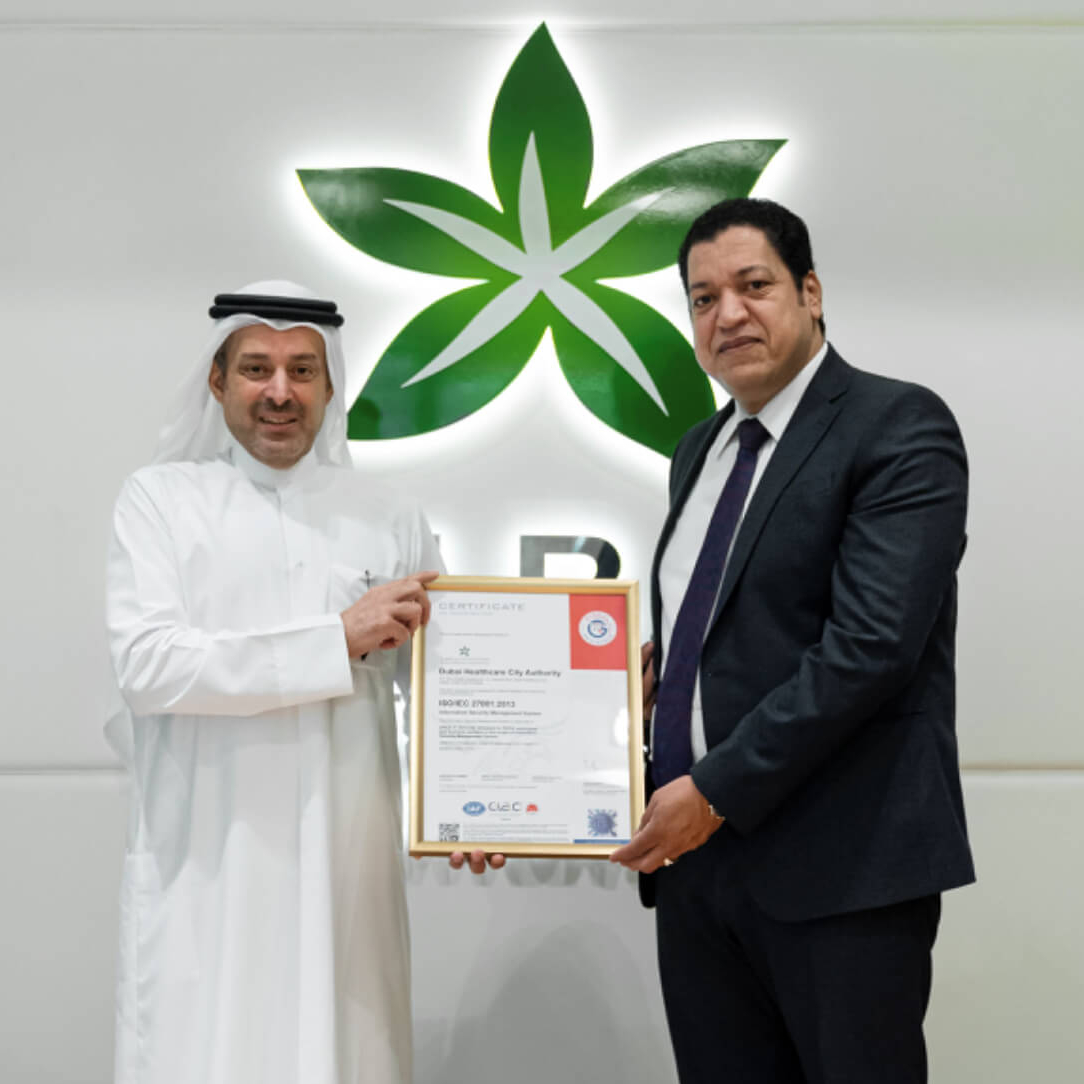 Monday, Jan 09, 2023
* The accreditation certifies that DHCA has implemented an Information Security Management System (ISMS) and achieved conformity with the requirements in the IT Services
Dubai Healthcare City Authority (DHCA), the governing body of Dubai Healthcare City, the emirate's enabling healthcare and wellness freezone, has received the ISO/IEC 27001:2013 standards certification for its best-in-class data security management and protection capabilities.
The accreditation, which is the globally recognised information security standard, strengthens the authority's efforts to achieve excellence in its information infrastructure and shows its commitment to adopt the highest internationally applied standards in the field of information security.
The ISO/IEC 27001:2013 accreditation certifies that DHCA has implemented an Information Security Management System (ISMS) and achieved conformity with the requirements in the IT Services delivered to DHCA employees and business partners in the scope of the Information Security Management System.
Kawthar Kazim – Vice President, Business Support at DHCA stressed that accreditation is the outcome of the DHCA's efforts to develop risk-based thinking and its ongoing efforts to stay current with cutting-edge tools.
"We are honoured to have achieved ISO/IEC 27001:2013 accreditation as we believe an advanced and secure IT infrastructure in modern office environments is essential to the success of any company," she said. "We have formed an information security policy and made all the relevant IT resources available. DHCA is committed to customer satisfaction, continual improvement, and complying with applicable legal requirements. Safeguarding our business partners' data tops our priorities; for that end we have established and maintained an information security management system in accordance with the requirements of this International Standard."
Prior to being accredited, DHCA provided information security training to its staff, educating them on significant topics such as cyberattacks on businesses, various ISMS tools, and the implementation of ISO 27001:2013's controls, among others. The training was a part of the DHCC's efforts to enhance the staff's knowledge base and their experiences in a technologically advanced society.
The accreditation is DHCA's latest achievement, following its recent ranking in the Dubai Cyber Index. DHCA scored the highest mark on the Index, a Digital Dubai initiative for local government entities, and the ranking is consistent with the Dubai Healthcare City Authority's (DHCA) continued efforts to build its soft and hard infrastructure, which guarantees business continuity and provides partners the best services.
The Dubai Cyber Index, the first of its kind in the world, was launched in 2020 to support Dubai government entities with their cybersecurity efforts and establish its position as the safest city in cyberspace. DHCA has been working with Dubai Electronic Security Center (DESC) to onboard DHCA Information security systems on DESC cyber index framework.
DHCA obtained the highest ranking in the Dubai Cyber Index excelling in the parameters, including an average response time to resolve security threat alerts of 1.30 hours, 100 per cent results in 'resolved alters', and the number of data integrated into the DESC systems.