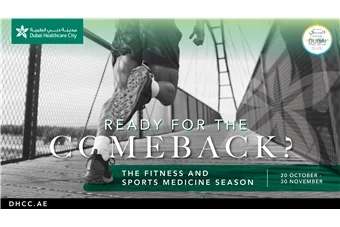 Wednesday, Oct 21, 2020
Dubai Healthcare City (DHCC), the healthcare free zone in Dubai, today announced the launch of the 'DHCC Theme-based Campaign Program' which aims to increase access to quality healthcare services, events and information to help people maintain a healthy lifestyle.
The program kicks start with the 'Ready for the Comeback: Fitness and Sports Medicine Season'. In line with Dubai Fitness Challenge 30X30 objectives, the season aims to empower Dubai residents to work towards a common goal of maintaining healthy and active lifestyles.
Jamal Abdulsalam, CEO, DHCA, said "Over the years we, at Dubai Healthcare City, have worked towards advancing excellence in the healthcare delivery of the UAE and today, during these exceptional times we are going through, working towards empowering members of the public to incorporate healthy habits in every aspect of their lives is of paramount importance. In this context, we are glad to launch the DHCC Theme-based Campaign Program with the objective of increasing access to quality healthcare services and information to help people of all abilities maintain a healthy lifestyle."
The program consists of several seasons; each season will feature several initiatives including live events, promotions and services concentrating on one of the specialties available in DHCC. It will also introduce the public to multiple qualified healthcare professionals working in these specialties across the free zone.
"Aligned with the Dubai annual events calendar, the program aims to become the health pillar of the emirate's activity scene, helping cement DHCC's position as a destination for innovative excellence in healthcare and wellness," said Abdulsalam.
The first activation of the program, the DHCC's 'Ready for the Comeback: Fitness and Sports Medicine Season', highlights the wide array of quality services in the fields of fitness, wellness and sports medicine available in DHCC including Pain Medicine, Physical Therapy, Massage Therapy, Orthopedic Surgery, Osteopathy, Neurosurgery, Occupational Therapy, Chiropractic, Emergency Medicine, Physical Medicine and Rehabilitation, Kinesiology and Nutrition.
Commenting on the return of the Dubai Fitness Challenge 2020, Ahmed Al Khaja, CEO of Dubai Festivals and Retail Establishment (DFRE), said: "Dubai's healthcare sector, on par with the best in the world, has long been committed to delivering holistic health care for all people. The Dubai Fitness Challenge is a platform which supports this ambition, celebrating a shared vision that better health is central to human happiness and well-being. We are excited to be driving forward DFC's journey with its fourth edition this year, once again reminding all residents and visitors about the benefits of adopting a healthy lifestyle and of making physical activities part of everyday lives. We look forward to working closely with all our partners across the sector to create a more active and healthier Dubai and to truly uplift the health and wellbeing of patients, staff, and the wider community."
During this season, which concludes on 30 November, several initiatives including live events and promotions for fitness, wellness, and sports medicine services will be provided by DHCC facilities. The participating partners for this season are Dr Sulaiman Al Habib Hospital, Emirates Specialty Hospital, Al Jalila Children's Specialty Hospital, Clemenceau Medical Center - Dubai, Mediclinic city hospital, Diversified and Integrated Sports Clinic (DISC), Westminster Ortho Med, American Spine Center, The Doris Duan-Young Autism Center, The Weight Care Clinic ,Wellness by Design, Dr Dana Diet Center, Dr. Rami Hamed Center, Dr. Majdi El Halik Pediatric Physical & Mental Rehabilitation Center, Physio Fit Sports and Rehab Clinic, Physical Health and Healing Center, American Wellness Center, Al Mourgan Medical Supplies, Specialized Orthopedic Mobility Solutions, Bauerfeind Middle East, Dubai Dental Hospital, Mohammed Bin Rashid University of Medicine and Health Sciences, Hyatt Regency Dubai Creek Heights and Bin Sina Pharmacy, Advanced Behavioural Learning Environment, German Medical Center, Integrated Rheumatology and Arthritis Center, Italian Dental Clinic, Kids Neuro Clinic and Rehab Center, Korehab Clinic, Physiocare, Revitalife Clinic, Aster Pharmacy 100, Revitalife Compounding Pharmacy, LIFE Home Healthcare, Life Pharmacy and Express Clinic, Marriott Al Jaddaf.